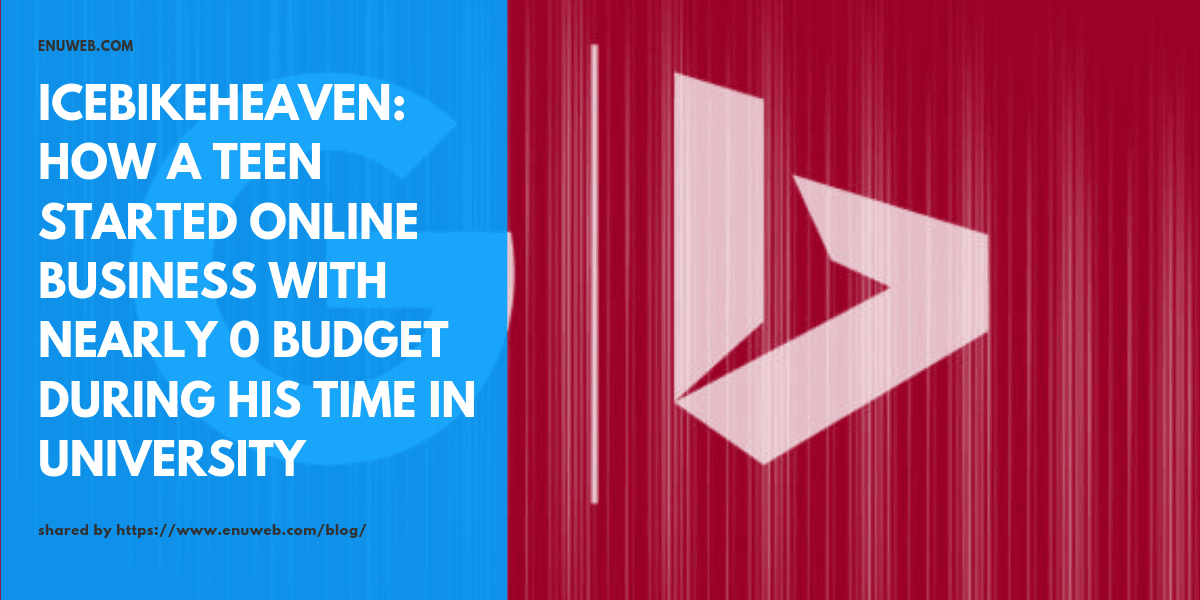 27 Jul

IceBikeHeaven: How a teen started online business with nearly 0 budget during his time in university

4 years ago, Icelacc Ho was just a university student who happens to love cycling. He and his friends often team up and went on long-distance cycling tours as he enjoys the breeze blowing through his face and the speed created by his body. He conquered numerous places, Cameron Highlands included. Like any enthusiastic cyclist, he often visits bicycle accessories shop to get some gears for his upcoming tours. This is a story on how a university student became a successful ecommerce entrepreneur within 4 years with nearly 0 budget by selling bicycle parts and accessories online, and having his own online store – Icebikeheaven.
Smart move – kickstart his online business with dropshipping
Being an enthusiastic cyclist, Icelacc Ho became familiar with those shop owners of the bicycle shops and that's how he came to know that many bicycle shops are providing dropshipping services.
Realized that dropshipping is actually a very good way to start a business, Icelacc started to dropship bicycle parts and accessories from various local sellers.

By dropshipping, he won't need to spend a cent when he sells. All he needs to do is to promote the products and when there's an order from customers, he informs the sellers he dealt with and the sellers will ship the products over to the customers. It's really easy and low budget for new entrepreneurs.
Evolution of his Business Model from Dropshipping to Import
He then switched from dropshipping to import because there are cases where he realized that sellers shipped wrong or faulty products to his customers. As his business gets more stable, he decided to switch his business model from dropship to direct import, so that he is able to oversee the quality of the products and provide better customer experience.

Reviews reflects a brand, and very important for online business
According to Icelacc, he felt that reviews are really important because they give online shoppers an assurance when they purchase from him. Reviews reflect a services, and that is why everytime after someone made a purchase from him, he will ask those customers for positive reviews, be it on his Facebook Store or webstore. This also helps boost confidence of his international customers, since they are able to know about the quality of the accessories via reviews.

SiteGiant Marketplace Sync is a life saver
His ecommerce journey officially started when sell online via Mudah and his own personal Facebook account, which is really manual. Then, he set up a store in Lelong. He started to get a lot of sales from both platforms then but he realized that it wasn't enough. There are also other marketplaces out there in Malaysia, such as Lazada, 11street, Shopee and more. And here comes the problem – he wants to save the time and hassle for his inventory order.

Icelacc came to know SiteGiant via a gentleman who shared a plane back to Malaysia while he was in China sourcing products. The man introduced him SiteGiant, an ecommerce solution that allows you to sync products to marketplaces while inventory details and orders will all be synced back to one integrated platform, making things easier for online sellers.

Stay ahead – Sell on Ebay with SiteGiant
Icelacc has a lot of customers from all around the world, making purchases from his webstore. He has customers from Canada, US, Singapore and more. That's why in future, he decides to expand his market to Ebay US via SiteGiant Cross border marketplace sync.

Icebikeheaven made us realized that everyone can sell online, and ecommerce is indeed the future of business.