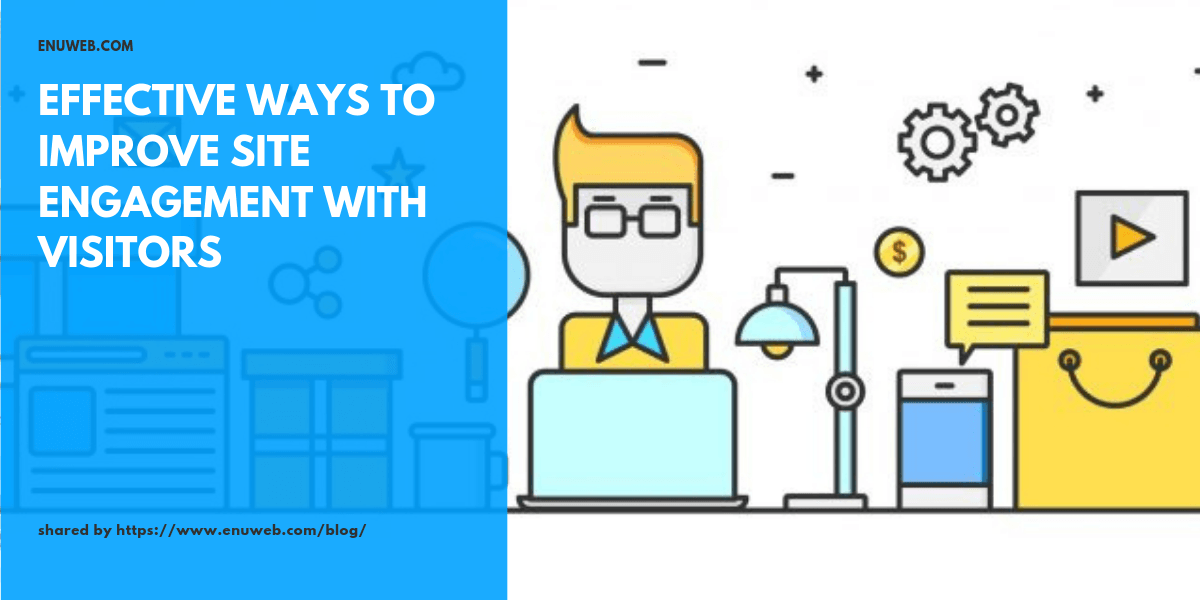 29 Jul

Effective ways to improve site engagement with visitors

Never underestimate the power of your site visitors. They could possibly be your potential customers anytime. The longer a visitor stays on your site, the more likely he or she will make an online purchase from you.

But, first thing first, ask yourself: Are they sticking long enough to take the desired action such as subscribe a newsletter or even make an online purchase from you? Most of the time, the answer is no. According to surveys done by Akamai and Gomez.com, 8 out of 10 visitors who have trouble with site performance will abandon the site and 4 out of 10 of them will tell a friend if they had a poor experience shopping online. That's why you shouldn't just focus on getting traffic to your website, but also the user interface and content of your website. Sometimes those small things are the ones that make a difference.
Keep it simple and be user-friendly
Remember that simplicity is always better than complication. Use a simple and uniform layout for your brand, with relevant information to engage your visitors. Make sure your site is easy to access and navigate. Your site navigation menu must be simple and straightforward. Imagine the frustration of your site visitors if they failed to find something that they want. Visitors often abandoned a site just because it is too complicated or they couldn't find what they want from your page.
Content
Content is the next thing people sees on your site. Try to create contents that are easy to read and understand. Be sure to bold any important information that you want to convey to your site visitors. Reason being most Malaysians don't read content anymore. So it's better if you bold or makes the selling points more visible from the content so that when visitors scroll past the information, they are still able to capture the selling points of your products. If you want them to come back for more, create relevant and persuasive content. Pinpoint on why your visitors need this product, how it will benefit them, and once your content has successfully engaged your site visitors, I'm sure that your site visitors will convert into your customers.
Use the right image
Let the images do the talking. It's important to know that your site visitors like to see interactive visual content on a website. Emotions are powerful and they work. A positive image brings out positive emotions. Regardless of what it is, it could be a smile, a smirk or a gesture.
Live Chat
Why it's a good idea to set up a live chat on your website? Because first time visitors tend to have many questions, so it's the best time for you to impress them! Installing a live chat allows your site visitors to resolve all their queries immediately, so they won't get frustrated while exploring your products and services.
The first impression is very important. If you want to engage your site visitors better, you can set up greetings for them based on their taken actions and information on your website. For instance, "Hi Alice, Welcome! It's great to see you again. How may I help you today?" It's easier to retain your visitors when they feel welcomed to your site. This is the reason why SiteGiant integrates with a variety of live chat platforms like Tawk to., Zendesk, and intercom in order for our merchants to serve their visitors better.
Include an explainer video
If a picture worth a thousand words, then a video worth millions. An explainer video is a great idea to grab your visitors' attention. It's mainly a short online marketing video that is used to explain your company's products or services.
Wonder how much an explainer video helps? According to a recent survey conducted by Video Rascal, more than 8 out of 10 people are more likely to buy a product once they see an accompanying explainer video. For better engagement, use a catchy and innovative video, highlight the features and unique points of the products or services, but do not make it too lengthy. A video between 30 to 90 seconds is ideal enough. It also helps your customers to remember your brand better rather than your competitor's.
To conclude, as a leading ecommerce solution provider in Malaysia, we make sure our clients manage to target their visitors in every possible way. We hope that you have found the key takeaway from us. Every single visitor is a potential customer, and never miss a single chance to convert your site visitors to customers.
Sources
https://www.sitegiant.my/improve-site-engagement-with-visitors/